TFSI TTE420 Hybrid Turbo Custom Remap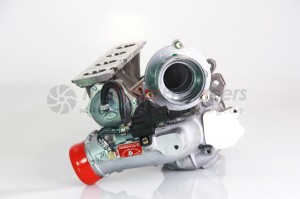 For hybrid turbo upgrades for the tfsi engines we recommend the TTE420 turbo which can provide upto 70-80hp more delta power at the top end compared to the stock k04-064 turbos .
To run the TTE420 you will basically need  decent stage2+ hardware along with an upgrade low pressure fuel pump and a custom  165 bar fuel rail pressure valve and low pressure fuel pump upgrade.
The TTE420 hybrid is capable of 410-43hp+ but the numbers you will see are directly linked to how well your hardware works and flows as a full package.
The TTE420 tuning we offer is a full bespoke tuning session, this level of mapping takes into account the TTEs unique upgrade actuator to allow perfect linear boost control, and the base fuel mapping is set custom around you 155bar fuel system.  The R-Tech TTE420 stage 3 mapping offers 5 switching map options to which provides instant access to 5 different boost profiles for the TTE420,  you can choose to customise on how you want the 5 boost maps setting up.  (wife mode, high torque, winter, High hp linear, na feeling linear, or set power and torque levles, its upto you)
More info on the TTE420 can be found here > http://www.turboengineering.de/
TTE420 Upgrade Performance Turbocharger VAG 2.0 TFSI (S3 8P, TTS, ED30, so on)
TTE420 begins as a brand new standard BorgWarner K04-064 turbocharger that we dismantle and then set about upgrading and optimizing as engineers to create the our ultimate K04 frame hybrid. TTE420 Turbocharger is in our opinion the final step and our pinnacle power stage for the 2.0 TFSI range of vehicles while retaining the OE K04 unit for Plug & Play fitment.
Engineered & Enhanced TTE420
The formula to making a TTE420 starts with a much larger 2871X TTE billet compressor wheel, chosen because is highly efficient, new generation type with ultra thin blades, creating extremely high flow for comparative size, giving a compressor map that's very wide. The Re-Profiled compressor cover is machined to a optimized tolerance to ensure maximum compressor efficiency is given. Also the intake pipe is ported to give a smooth transition for the incoming air flow. We also fit our TTE CNC K04 silencer delete, we modify the turbo discharge silencer, removing the baffle internals and fitting a new straight through section, removing any restriction and its function as a noise cancelling device, and so improving the flow, giving less surge and enhancing the sound.
A key part to driving the large 2871X compressor and in turn making this unit produce the huge power advantage over stock and also the competition, is machining and fitting a far larger BorgWarner K16 curved clipped turbine and shaft, while still keeping the k04 core, this is not so easy to do. This K16 turbine gives much lower back pressure and keeps EGT lower compared to stock K04 turbine or clipped stock.
The clipping of the K16 turbine is a special TTE grinding process to the turbine blade tips, curved to alleviate stress from process. Clipping reduces blade area thus increasing gas flow and so reducing back pressure and lowering exhaust gas temperatures, allowing safer higher boost level's. This process also gives a secondary advantage of removing some material, lightening the turbine thus reducing rotational mass improving moment of inertia. Dyno's have shown little loss in response vs stock K04 yet huge gains in power and torque.
Attention can be given to port the exhaust runners at the flange to match and smooth the transition from head to exhaust runner for maximum gas speed and so improving efficiency to the much bigger K16 turbine and so driving the compressor harder. This Process is available at extra cost.
Special TTE developed in house 360 deg high performance motorsport journal bearing system is fitted. Durable at high loads with no loss in transient response.
Actuator used is uprated sprung OE unit, fitted with our reinforced clamps for trouble free operation. This also can also be modified to customer needs and specifications.

Equilibrium TTE420
Precisely balancing our turbochargers is a key critical factor for longevity and performance. Good balance improves acoustics also. Subsequent great care is taken with all TTE turbochargers with this regard. Firstly parts are balanced at slow speeds up to 2800RPM in multiple planes using our single parts machine, then components are assembled and then the CHRA are dynamically balanced yet again but this time at up to 250,000 RPM in multiple planes using our in house VSR machine to acquire the ultimate equilibrium, to a standard far higher than OEM. Supplied with a balance test result document.
TTE420 Key Points:
Genuine BorgWarner Housings, Exhaust manifold & Components
TTE 2871X Billet Highly Efficient Next Gen Compressor Geometry
Optimized Compressor Cover Machining Clearances
CNC Port Matched Hand Finished Exhaust Runners (Process is available at extra cost)
CNC Optimised modified silencer discharge delete
CNC Ported hand finished Intake Pipe
Genuine BorgWarner Special Curved Clipped K16 Turbine
Genuine BorgWarner Uprated & Reinforced Actuator
Special TTE K16/K04 Reinforced Bearing System
Fitment As Original. Plug & Play
Dynamically Balanced
420+ PS Capable
Designed, Machined & Built by TTE in Germany
TFSI TTE420 Hybrid Turbo Custom Remap we will update this page over the next few weeks