2.0 TFSI k04 Stage 2 Tuning Guide
2.0 TFSI k04 Stage 2 Tuning Guide
Stage 2  tuning aming for peak bhp high rpm with a flat torque profile 335-350hp 320-340lbft
BYD – BWJ – BHZ – CDL Engines
MIN Requirements for STAGE 2 POWER R-Tech remap session.
Full High Flow Exhaust
Sports cat or Decat Exhaust System
High Flow Cold Air Induction Kit
5w 40 Oil
Vpower – Tesco 99 or any 98+ Ron Fuel
All Custom tuning session includes a full health check session prior to tuning
Most ECU versions can have the 5 map switching option, this is to detune the max power of the map to help reduce clutch slip of any .
All map will include the unique R-Tech VVT and TIV mapping and ASR traction control mapping to cater for the additional power.
All maps will be carried out in house on our Bosch Rolling Road dyno a typical stage 2+ custom map will take around 3 hours.
Maps can be setup to your requirements, linear throttle – linear boost – aggressiveness can be stipulated during tuning.
All R-Tech customer will get a life time of ownership support – free diagnostics and logging sessions post tuning.
For stage 2 POWER you will need to get the hardware right first. We will start with the exhaust a decent branded exhaust.  The two companies we recommend are www.millteksport.com and www.powervalve.co.uk both offer the very best systems on the market with two different approaches to how they build them. Both final results are top quality workmanship which flow well and aid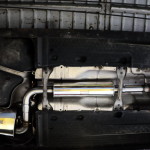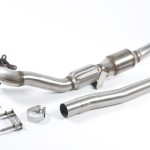 decent high end power numbers.  Yes you will pay a premium for quality with many year R&D.  We have seen a lot of cars come in with "custom one off" exhausts  welded together from bit out of a parts bin in the space of 2 hours with no development of flow testing.  We see these custom exhaust struggle with power and flow to the point where they are holding the power back and causing major flow issues. The main two factors are cheap poor flowing cat with small surface areas and/or nasty back boxes which build up back pressure.   What to do it on a budget?  You can buy a performance down pipe decat system of ebay which costs around £120-140 which can be made to work with the decent flow branded systems. These cheaper ebay systems have proven to work fine over 400hp and offer no issues or limitation.  Only down fall is mot time, the car will fail with a decat but not the sports cats which www.powervalve.co.uk and www.millteksport.com supply with there full systems.
For Stage 2+ which offers huge TORQUE gains, you will need to change to the fuel system to to take into account the greater mid range boost levels you do this by adding an upgrade HPFP -High Pressure Fuel Pump.  The options are Autotech internals – APR full pump or Loba Full pump.  Prices Range from £280-£550.