AXX BWA TFSI K04 turbo conversion
AXX BWA TFSI K04 turbo conversion
Guide to converting your K03 based tfsi engine into a 350hp+  k04-064 turbo charger setup
AXX BWA K04 conversion custom tuning session 350-375hp / 350-380lbft
Part numbers for the items needed to carry out the k04 conversion on to a AXX or BWA engine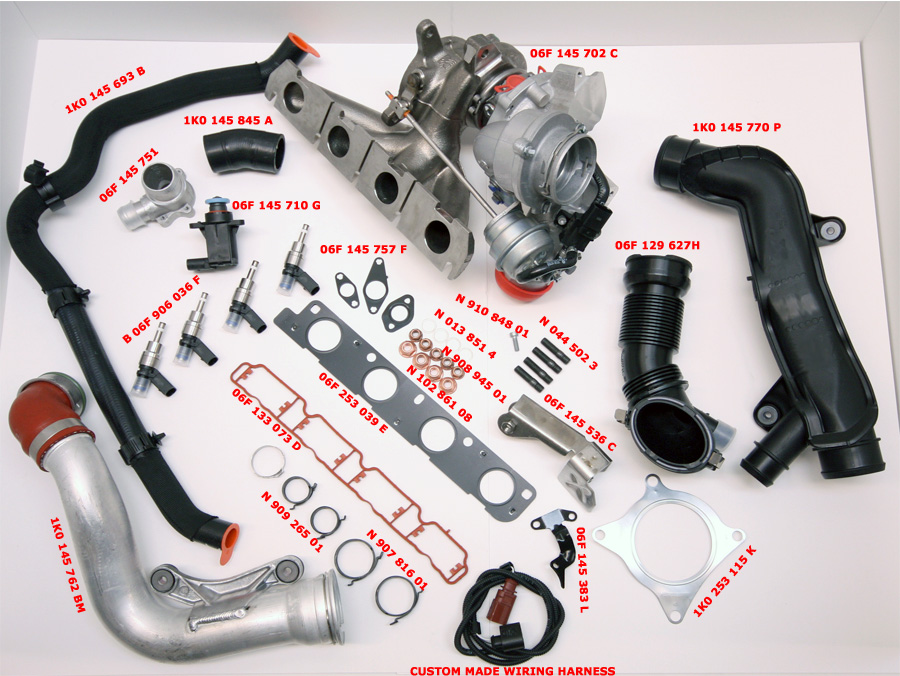 MIN Requirements for AXX BWA K04 conversion custom R-Tech remap session.
k04-064 Turbo Charger & Injector Setup from above
Upgrade HPFP – (High Pressure Fuel pump)
RS4  FRPV 136BAR (FuelRail Pressure Valve)
200bar Fuel Rail Pressure Sensor (we will supply and fit this item during mapping)
3 Bar Map Sensor (we will supply and fit this item during mapping)
Full Performance Sports cat or Decat Exhaust System
Upgrade Front Mount Intercooler
High Flow Cold Air Induction Kit
5w 40 Oil
Vpower – Tesco 99 or any 98+ Ron Fuel
Optional hardware to aid better performance
RFD Manifold Runner Flap Delete System
Performance Clutch System
WMI Water Meth Injection
Larger Boost Pipe Setup
All Custom tuning session includes a full health check session prior to tuning
ECU Calibration firmware base mapping upgraded to our unique k04 based map code
Full re calibration of map sensors and rail pressure sensors.
R-Tech AXX BWA Ko4 tuning will tend to see around 1.5 – 1.7bar boost ranges depending on the exact hardware setup.
All map will include the unique R-Tech VVT and TIV mapping and ASR traction control mapping to cater for the additional power.
All maps will be carried out in house on our Bosch Rolling Road dyno a typical stage 2+ custom map will take around 3 hours.
Maps can be setup to your requirements, linear throttle – linear boost – aggressiveness can be stipulated during tuning.
All R-Tech customer will get a life time of ownership support – free diagnostics and logging sessions post tuning.
For Bookings please call 01455 617233 or use the contact form from the tab above.
You current engine code will be an AXX or BWA the biggest difference  with these engines are the compression ratios compared to a factory k04 engine found on the 8p S3 Golf Mk6 R Golf Mk5 Edition 30 Cupra K1 ect..     All the factory k04 engines use a compression ratio of  9.8:1,  the AXX is 10.5:1 and the BWA 10.3:1.
There are pros and cons to having a higher compression on a k04 setup,  on a higher compression engine the car will feel much more responsive and spool the turbo much faster compared to a 9.8:1 engine, the engine can make  more efficient power at lower boost levels.  The down fall is knock/pinking when trying to run elevated boost so the whole package need to be flowing the best it can to gain the head line numbers.  You may end up with lower "peak" numbers compared to a stage 2+ factory k04 car,  but you could end up with much more average power under the hp/torque curves and be quicker of the mark and getting up to full power.
So basically aiming for 350+hp  you will already need to have the supporting hardware which will be the stage2+ bolt on items  for a k03, full exhaust, fmic, high pressure fuel pump, induction kit and a decent clutch upgrade.  (Or you can aim for -300-310hp-300-320lbft by just adding the k04 hardware and  removing you pre cat using the stock exhaust stock intake stock fmic)
Below is a dyno plot from a recent custom rolling road mapping session on a 2006 Mk5 Golf GTi BWA manual. This setup ran number of 370hp 388lbft, it was a very good flowing setup which we think could have gone onto 400lbft 380hp is it was running an upgraded lower pressure fuel pump from a TTRS.   The average number we tend to see are 355-365hp.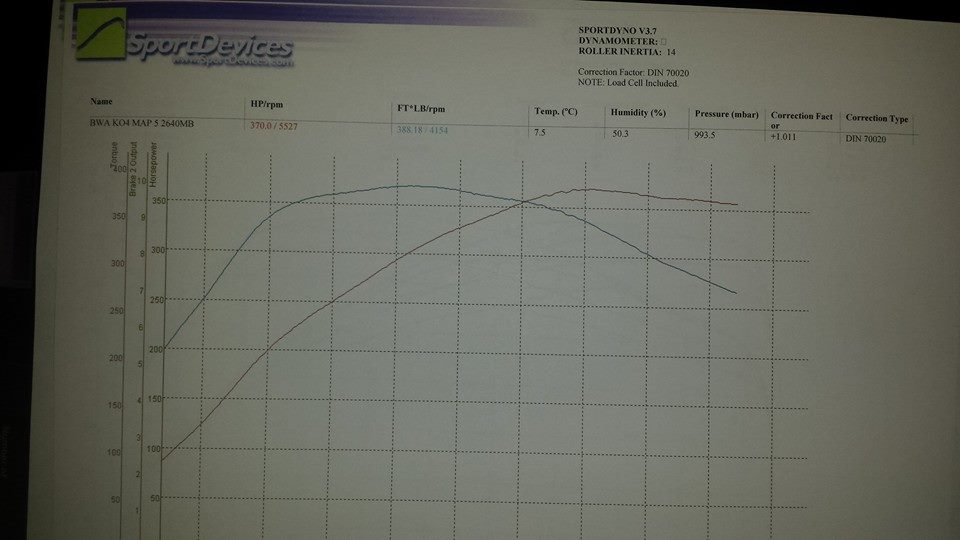 The graph below show the same custom tuned software running back to back the five map switching options.  Lowest power setting on this car is 309hp but all these maps can be set to how you want them….. ie Wife mode map 1 250hp 250lbft…  winter map 2 linear to 350hp with torque like a Honda…ect..  map 5 will always be the max final hp numbers.