1.8T Tuning Stage 1 Guide
1.8T Tuning Stage 1 Guide
Lets start you off.
 Stage 1 R-tech TiV™ custom 1.8T rolling road remaps are only £350+vat  this includes full health check with diagnostics and pressure/smoke tests. You will also get before and after printed dyno graphs with peak hp numbers and exact delta power gains from the custom mapping session which can take upto 3 hours on the dyno to fully setup and refine.
The first thing you need to know before you start tuning is what version engine and turbo your running, for this you need your 3 letter engine code. To find this:
Look in the spare tire well. There is a sticker on the side wall of the well, showing all the spec codes for the car and a 3 letter code in bold text.
Or take off the engine cover, (facing the engine) look at the left side closest to you. The engine code is stamped into an engine lift bracket facing up.

List of codes you might find  AEB AGU AYP ARZ APP AJH AJL APU AQX AWT AWU AUM AUQ BBU BJX BFB BVP AWV BAM AMK BFV APY APX if your code is not listed please call us for the details.
Below is a list of the engine code with the power can you expect from a stage 1 R-Tech TiV™ custom remap session
These are realistic power outputs for healthy engines some older car setups may make  less power some may make more, there is no exact rule of thumb to final numbers, but we know your post remap grin will be HUGE!
K03 1.8T Engine codes for all AUDI SEAT SKODA VW A4 A3 Golf mk4 
AEB AGU AYP ARZ APP AJH AJL APU AQX AWT AWU
These K03 turbo engines tend to tune upto around 190bhp 220lbft at STAGE1  £325+ vat
K03s 1.8T Engine codes for all AUDI SEAT SKODA VW A4 A3 Mk4 Golf Leon Cupra Polo Ibiza Octavia VRS TT
AUM AUQ BBU BJX BFB BVP AWV
These K03S turbo engines tend to tune upto around 210bhp 245lbft at STAGE1 £350+vat
K04 1.8T Engine codes for all AUDI SEAT  VW S3 TT Leon Cupra R
BAM AMK BFV APY APX
These K04 variant turbo engines tend to tune upto around 260bhp 280lbft at STAGE1
1.8T Tuning Stage 1 Guide
To get the very best from your R-Tech stage1 TiV™ custom mapping session you will need a healthy running engine running on decent engine oil (5/40 Quantum Platinum recommend ( £26) from main dealers) You will also need a strong air tight diverter valve (DV) as the older standard valves are prone to fail and cause power loss and turbo lag. We recommend the upgrade Forge Motorsport 007p DV with yellow spring (£85) or the latest stock valve from the main dealers just ask for part number 06A145710N (£30).
The next thing is running the correct fuel in your tank, the 1.8T engines all run a highCR / compression ratio for a petrol turbo engine so you will need the best quality fuel to run optimized power at all stages. R-Tech carried out the testing of fuel for the "Posh fuel" 5th Gear TV show on the Discovery channel. We took a brand new Mk6 ED35 Golf turbo which we tested cheaper 95RON supermarket fuel vs. the likes of Shell VPower 99Ron. The back to back results where up to 13bhp and 13lbft losses in power using the cheaper 95Ron fuels, and this was just on a stock non tuned engine. So if you want the best result and the best MPG from your 1.8T you will need to be running decent fuel anything 98RON and above. (vpower gives best results and mpg)
So to sum up for Stage1 the basics are good engine oil, a good DV and good fuel.  We will carry out a diagnostics health check prior to tuning your car to stage1, this will also include a smoke test to make sure your engine has no leak which could compromise  the performance.
Enhancing your engine at Stage 1 mapping with bolt on mods.
You can unlock more power from your stage1 tuning by improving flow, the more you do to improve air at stage1 the greater the power you will get across the whole dyno plot post remap. These recommendations are not needed or compulsory but will improve the torque band by no end and can be your first steps to go to stage2 power and above.
We have found for the K03 K03s engines that a cold air induction kit( CAI) (£120) or Pipercross panel filter (£34) will improve the air flow at the higher rpm and will aid turbo spooling and will give 4-5bhp 5-6lbft more at points on the graph (not on peak power). To aid the flow even more at stage1 you could also install a high flow turbo intake pipe (TIP) £125 The only decent flowing tips on the market are from Forge and SFS, you can find cheap £50 TIPs on eBay but the bodies are much more restrictive than the stock TIP and are very poor cheap investments.
For the K04 turbo engines BAM AMK BFV APY APX, we are seeing huge additional power gains at stage1 just from a decent cold air induction kit (CAI) (£120) linked with an SFS or Badger5 80mm large body turbo intake pipe (TIP) (from £130) Just by running the TIP and CAI with your stage1 map you can see up to 19bhp 20lbft more power at points on the dyno plot post remap. This combination is a must have if your wanting the very best power from your car or if you are planning to go to stage 2 then this is compulsory for willy waving bhp numbers across the whole rpm range.
Again any other bolt on mod which improves air flow into the engine and speeds up the exhaust gasses exit can be added to your stage1 setup to improve the power output. You can add parts that improve flow to your car after the stage1 remap and not worry about having to have the car mapped or tweaked again until you have all your hardware mod and ready for stage 2 power.
R-TECH STAGE 1 CUSTOM REMAP FOR K03 TURBOS  AEB AGU AYP ARZ APP AJH AJL APU AQX AWT AWU
Nice huge delta gains over the stock factory map.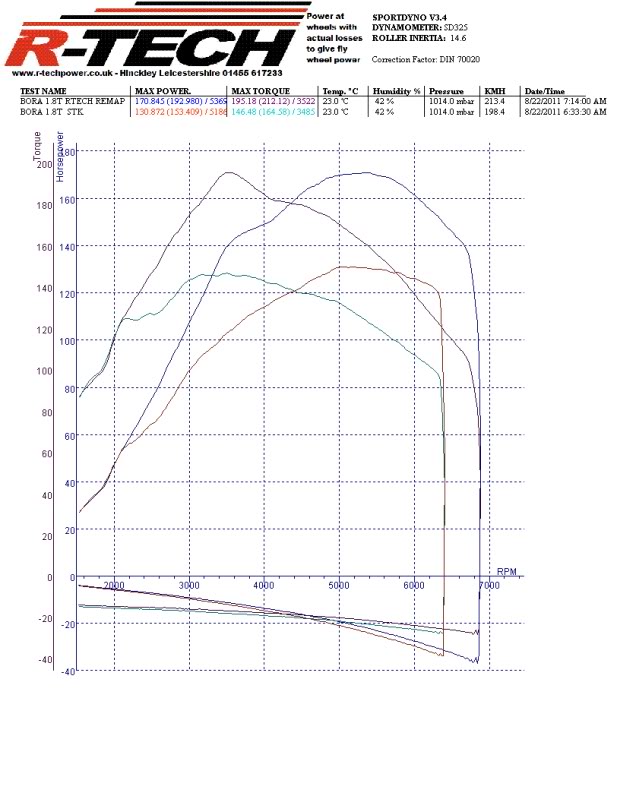 R-TECH STAGE 1 CUSTOM REMAP ON A S3 1.8t WITH K04 TURBO AND BADGER 5 80MM TIP
INDEPENDENT ROLLING ROAD RESULTS