Stage 1 is where the ultimate performance starts at!
k04 TFSI Stage 1  Custom mapping ranges around 290-310hp 290-330lbft
BYD – BWJ – BHZ – CDL Engines Mk5 gti Edition 30 ed30/  Leon Mk2 Cupra R K1 / S3 8p /Mk6  Golf R / Mk6 Edition 35 ED35
MIN Requirements for STAGE 1 custom R-Tech remap session.
5w 40 Oil
Vpower – Tesco 99 or any 98+ Ron Fuel
Optional hardware to aid better performance
Performance Panel Filter or Induction kit.
Pre Cat Removal.
All Custom tuning sessions includes a full health check session prior to tuning
R-Tech stage 1 tuning will tend to see around 1.3 – 1.4bar boost ranges depending on the exact setups and tuning manner
All map will include the unique R-Tech VVT and TIV mapping and ASR traction control mapping to cater for the additional power.
All maps will be carried out in house on our Bosch Rolling Road dyno a typical stage 1 custom map will take around 2.5 to 3 hours with around 2 hours dyno time.
Maps can be setup to your requirements, linear throttle – linear boost – aggressiveness can be stipulated during tuning.
All R-Tech customers will get a life time of ownership support – free diagnostics and logging sessions post tuning.
For Bookings please call 01455 617322 or use the contact form from the tab above.
A bit about stage 1 tuning
The limitation at stage1 is "HEAT" and "FLOW".   Basically an engine is a pump the more air the engine(pump) can flow in then out the more power we get which is about as simple as it gets with explaining tuning.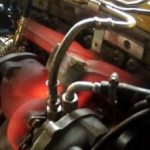 To flow more air at stage 1 is to increase the engine load to request more air flow which is produced via the turbo charger again this also sounds simple… but is not…
With elevated boost levels comes heat as a by product and a lost of it in different forms.  The more we compress the air (raise boost pressure) the hotter the air gets even before in enters the engine.   The more boost pressure the turbo produces the hotter the exhaust gasses get and super high uncontrolled exhaust gas temps can and will damage engines and turbos.  To manage this unwanted heat to a safe level we use the fuel to aid cooling by running a richer air fuel ratio which cools the combustion chambers and the gasses inside the turbine.  The fuel can only cool to an extent which means the final power number becomes limited by  high turbine exhaust gas temps and high intake air temps.  To further reduce the temps we need to make the engine (pump) more effective and the first step is to reduce the exhaust back pressure be removing the cats or fitting a sports cat setup. The stock cats reduce air flow which makes the turbo to work even harder and hotter to push the exhaust gasses out of the tail pipes.  A free flowing unrestricted  exhaust system can reduce temps by 35% and increase power (air flow) by upto 25% at the higher rpm range plus gain around 8mpg more.   (This is the same with stage2 and 2+ where we need to cool the air even more before in enters the engine)
Below is a dyno plot graph from one of our customers cars. BYD K04 TFSI DSG  running v-power fuel and stock hardware making an healthy safe 305hp fly wheel power with 333lbft.  Map extras loaded TIV ASR and VVT fast spool.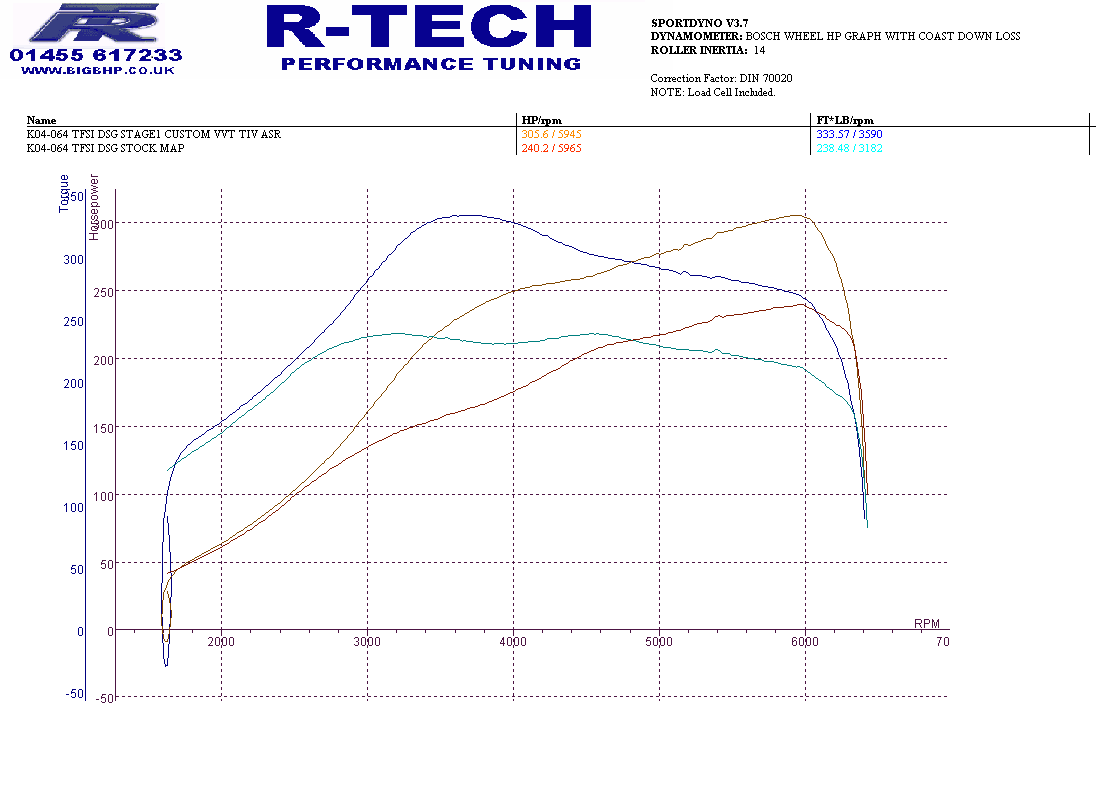 This next graph is from a 2011 Mk5 Golf ED35 with the latest CDL engine which also supports the K04-064 turbo.  Again this car was ran on v-power fuel with a Pipercross inbox panel.
2.0 TFSI Stage 1 Remap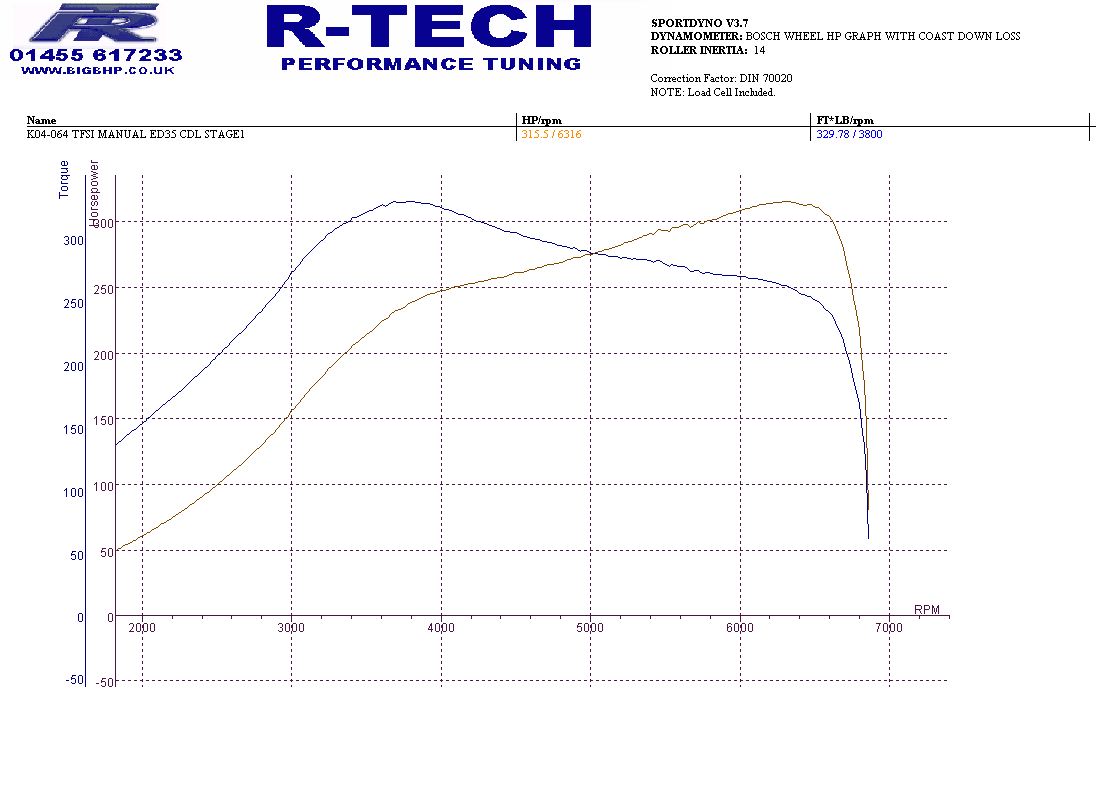 You will notice the plots are all most identical but two diffrent engines and transmission setups, this is because the out right engine flow is limited by the pre-cat and main cat, removed the cats to reduce heat and improve flow then we can get much greater results. The three options you have to unlock the power move with out spending silly amounts of money are, 1 remove the pre-cat from the oem down pipes which will give an around 10-15hp more power top end and better mpg, 2 remove both cats from oem down pipe and unlock another 20-33hp or 3 invest in a performance sports cat and down pipe which again should see 20-33hp gain at the top end (its a good idea to go for the upgrade down pipe if you are planning to go to stage2 or above.
Below is a graph of an ED30 runing decat  and induction kit setup with v-power on an R-tech custom map to suite the hardware changes. Any car with cats removed or upgade sports cats we class the tuning level as stage2 custom