1.8T Stage 2 Tuning Guide
1.8T Stage 2 Tuning Guide
This is where 1.8T tuning becomes EPIC FUN!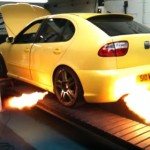 Stage 2  R-Tech TiV™ custom 1.8T rolling road remaps are only £325+ vat this includes full health check with diagnostics and pressure/smoke tests. You will also get before and after printed dyno graphs with peak hp numbers and exact delta power gains from the custom mapping session which can take upto 3 hours on the dyno to fully setup and refine.
Est Power gains from decent flowing stage 2 hardware with R-Tech full custom mapping.
K03 1.8T Engine codes for all AUDI SEAT SKODA VW
AEB AGU AYP ARZ APP AJH AJL APU AQX AWT AWU
These K03 turbo engines tend to tune to around MAX  200bhp 260lbft at STAGE2
K03s 1.8T Engine codes for all AUDI SEAT SKODA VW
AUM AUQ BBU BJX BFB BVP AWV
 K03S turbo engines tune to around 245bhp 285lbft at STAGE2 some decent flowing setups can make closer to 260hp
K04 1.8T Engine codes for all AUDI SEAT SKODA VW
BAM AMK BFV APY APX
 K04 variant turbo engines tend to tune to 285bhp 300lbft+ at STAGE2 (torque limited due to weak rods stage2 with rods 340lbft+)
1.8T Stage 2 Tuning Guide
Stage 2 R-Tech custom remapping also includes patching of the fault codes related to your hardware, so if you are running a decat or sports cat we will code the ecu to allow the engine to run perfect without any engine management lights or fault codes.  We can also patch and remove the EVAP – SAI  and N249 systems so you have a perfect  fault free setup.    You may find tuners trying to claim / quote the same power numbers as we do just to try to compete with us and get there foot into the market, its easy to shout and brag bhp numbers but being realistic to get the best of the numbers above the car needs to be 100% flowing its best and the mapping needs to be of the best quality custom refined to each car, generic map hp numbers tend to be a mile off what they claim so try not to get caught up from tuners over promoting a generic map or selling generic maps as custom maps but without any dyno time.
1.8T 20V Tuning Guide for Stage 2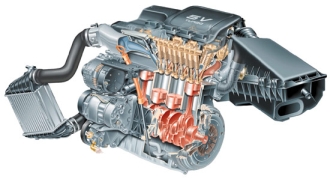 Firstly follow on from the basics from stage 1 tuning guide so you want decent engine oil and 98RON+ fuel and a healthy diverter valve DV. If you are unsure please use click on and read our 1.8T Stage1 tuning guide.
Cheap or free mods to aid stage 2 power is to remove the SAI and N249 setups and adding a catch can to remove the pcv system, by doing these mods your engine will feel much more crisp and you will be removed 90% of the items that can leak or cause issue at stage 2.  Most people with the N249 and SAI removed do get better results.  We can supply the SAI blanking plate so £20 inc p&p.
Below are four links for forums which have the guides you need to carry out these basic mods.
remove the  SAI   remove the N249   Evap SAI n249 1.8T catch can / pcv mod
MAJOR PARTS NEEDED FOR STAGE 2 POWER:
FMIC – full performance exhaust – high flow tip – DV – Cold air induction kit
The idea with the hardware at stage 2 level is to get the engine to flow air as best it can with minimum restriction and to keep that air as cool as we can across the whole rpm range. The other major factor as stage2 is exhaust gas exit flow and exhaust gas heat build-up.
FRONT MOUNT INTERCOOLERS / FMICs
The major fail with 1.8T stage 2 tuning and low power setups  is people modifying their cars in a rush or wrong, i.e. by fitting an upgrade front mount intercooler kit to there car (FMICs) to aid the charge cooling when running higher power, but they are using kit with 2" boost pipes which are smaller than the stock intercooler setup and tend to have lots of sharp 90deg bends which means they have gained better cooling effect but reduced the air flow and created a greater pressure drop between the turbo and inlet manifold.
The result of the pressure drop is a loss in peak power due to reduce flow. The more you do to improve the flow the better numbers you will get  from the final engine setup.  So if you are going to do it do it right and get the best result for your money.   Keep away from cheap unproven ebay fmic kits and steer clear from upgrade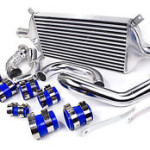 alloy side-mounts coolers.  For power targets 250hp –  550hp you need to be looking at the "Wellycooler" setups,  the Wellycooler setups are proven universal cores from eaby which  cost around £100,  installed with custom 2.5″ alloy boost pipes and hose from ASH hoses on ebay.  The total cost of the Wellycooler hardware will be around £200-250, DIY fitting maybe a full day,  pay a company to fit it expect to pay £200-£250 labor.  Just search Wellycooler kits in google and you will find 100s of VAG forum topics and page after page with all the information you need.  There is not exact way to fit the Wellycooler kits, but the aim will always be the same best flow and cooling try not to have nasty bottle necks or sharp bends try to keep all bends sweeping and smooth.
Link to Wellycooler Guide 1  Link to one of our project cars now at 370hp running a Wellycooler setup
 INDUCTION KITS / AIR FILTERS
Also for the Stage 2 tuning you have to have a decent cold air induction kit (CAI) Try to get a decent flowing setup with wont suck in hot air from the engine bay, R-Tech can provide a enclosed cold air induction system for £120 fully fitted.  The R-Tech Kit provides the very best flow with a nice cold clean air feed to the filter. You can run open cone filters but they will suck up the warm engine bay air and have an ill effect on the peak power numbers.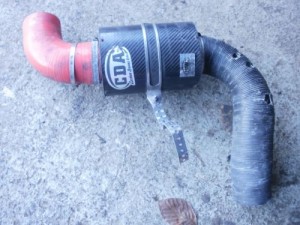 On the left this is how not to do it!!  We see power "losses" of around 10-18bhp on setups like this.
Below is the R-Tech cold air induction kit with sealed engine bay area and using the oem ram effect cold air intake tube. This kits are £120 rrp and have been tested to flow 450hp+.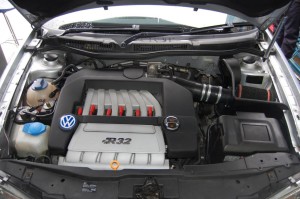 The R-Tech kits will fit Mk4 GTI Leon A3 S3 TT Octavia VRS LCR they wont fit the Polo or Ibiza engine bays.
You can make your own induction kit all you need to aim for is best flowing filter which is sucking up cool lean air, try to  keep the stock oe intake in place to provide the cool clean air. Use Quality brand universal filters not £9 ebay filters as the rust and fall to bits.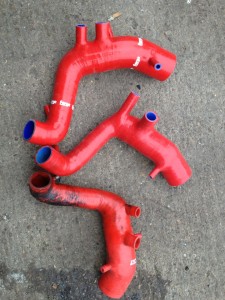 TURBO INTAKE PIPES TIPs
The next items which opens up the flow / bhp at stage 2 are TURBO INTAKE PIPES aka TIPs these connect the air filter side to the turbo inlet.  But be very careful when buying tips as there are  poor flowing TIPs on ebay these tend to look good but they provide no more air flow effectiveness over the stock factory fitted TIPs.  So with TIPs its easy, the bigger the better.   R-Tech can supply and fit our unique supersize TIPs for £135 all inc, these are the very best flowing TIPs money can buy if your wanting the very best flow from your engine setup.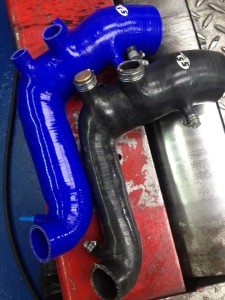 On the right is a photo we took of the 3 competitor TIPs for the K03 based turbos, prices ranged from £60 to £150 and as you can see not all TIPs are the same. We found the difference of around 12hp between the bigger tip vs the smaller bore tip which ended up making same power as a stock tip. We dont really need to point out the poor flowing tip on the picture.
On the left  is a picture of the best flowing TIP vs the R-Tech 70mm Supersize k03 k03s k03 hybrid TIP which has been proven and tested to flow over 310bhp with the k03 hybrid units. The R-Tech TIP is only £110 inc p&p or £135 supplied and fitted. (in Blue or Black)
So thats basically stage 2 1.8T tuning your limitation at stage 2 is your turbo, the next stage to gain more power is improve your turbo charger.
Option 1  - If you have a k03 you can switch to a k03s and gain another 40-45bhp or  if you have k03 or k03s you can fit the  bigger k04 turbo and gain another 40+bhp this way.
Option 2 – would be have your turbo built with bigger wheels made in to a hybrid turbo charger this is where 1.8T tuning become serious fun and big power for little money. If you have an engine which is running the ko3 or k03s turbo we can provide you with direct bolt on turbo units, we can offer the BBT K280 turbo which will tune to 280bhp or the BBT K300 which will easy make 300hp.
Option3 For the k04 setups (and can work with k03 based cars)  you will need a high flow exhaust manifold with the BBT k04 hybrid setup which will take you to 330-350hp or you could install the BBT ko4-064 tfsi conversion kit and aim for 370hp or 400hp+ with the k04-064 hybrid
You will need injectors and fuel pump upgrade but all this info can be found in the 1.8T hybrid tuning section HYBRID TUNING SECTION